eBay has been the talk of the town for different reasons. They have been sued again by an American seller for always letting the buyer win. But the marketplace has implemented some very important changes that are actually in the sellers' favour, even if they don't seem that way at first. Here's a list of all the changes that eBay sellers should be aware of.
1. Seller Standards measurement gets more seller friendly.
eBay has started implementing a new way to measure seller standards as announced 2 months back on its website. According to their help pages:
…a new measure, the transaction defect rate ("defect rate"), will replace the current four individual detailed seller rating requirements in evaluating seller performance. The defect rate is simply the percentage of a seller's successful transactions that have one or more of the following transaction-related defects, the top predictors that a buyer will leave eBay or buy less:
Detailed seller rating of 1, 2 or 3 for item as described
Detailed seller rating of 1 for shipping time
Negative or neutral feedback
Sellers can have up to a maximum 5% of transactions with one or more transaction defects over the most recent evaluation period. A maximum 2% will allow a seller to qualify as an eBay Top Rated Seller.
The defect rate won't affect your status until you have transactions with defects with at least 8 different buyers (at least 5 different buyers to impact Top Rated status) within your evaluation period.
Just as today, sellers with 400 or more transactions over the past 3 months will be evaluated based on the past 3 months and sellers with fewer than 400 transactions will be evaluated based on the past 12 months.
Earlier, eBay only allowed 0.50% transactions with low ratings, and had 4 different detailed seller rating requirements to calculate the same. With the new 2% maximum defect rate, the sellers get an extra margin. Also, this gives stronger protection for the seller from the actions of one or two unruly buyers. The defect rate will not affect your status until you have transactions with defects from at least 8 different buyers (at least 5 different buyers for Top Rated sellers) over the most recent evaluation period. This also makes sure sellers do not end up with low ratings for shipping costs since shipping cost and communication detailed seller ratings do not count any more. 
eBay further elaborates that they will penalize the sellers with higher defect rates by lowering the position in the best match search results. However, Buyers will not see the defect rate.
2. More sellers get the Platinum status
eBay has changed the remittance cycles in July 2014.  According to their website, this was done to manage the PaisaPay process better. Each seller gets their Seller Remittance Member Status based of their past and present performance. Better the performance, faster the remittance. With the new performance standards in place, if the seller has been performing better than average (with a defect rate less than 2%), they immediately get a Platinum status. If you are one of these sellers, you should have received one of these mails last week.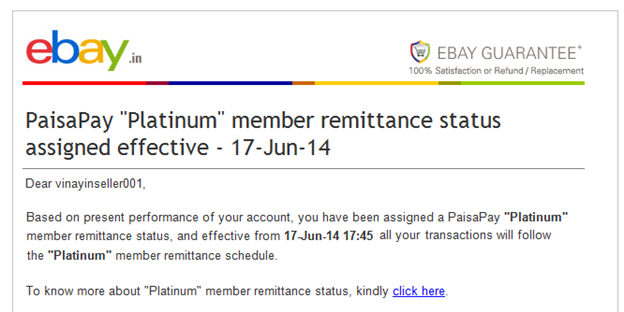 This basically means faster payments for more sellers. "Silver status is terrible. Considering it is mostly new sellers that get silver status, it becomes a huge hassle to manage the capital and cash flow. Imagine having to wait 14 days after delivery confirmation, which is probably a good 17-20 days from shipping the product to get your money. No other platform except eBay allows you to sell without documents, and for a seller that is just starting, this can be very tough." says Akshay Gupta, an eBay Seller
It comes as no surprise that sellers are quietly rejoicing their new status hence. With the changes, sellers that are still in Silver status are more hopeful about reaching platinum status soon.
3. FVF will now be charged on Item Price plus Shipping cost
This is probably the most important change to note of all. eBay has announced that FVF will now be charged on Item Price plus Shipping cost, instead of the Item Price as it is currently charged, with effect from September 16, 2014. 
For example, if you are selling a product for Rs. 900 with a Rs. 100 shipping cost, your FVF will be calculated on Rs. 1000. PaisaPay Facility Charges, Insertion Fees, Service Tax and other eBay fees, and they will continue to be applicable as per current policies.
eBay, in their announcements page explain that this is a move towards encouraging more Free Shipping from sellers.
"We periodically conduct market research for updates on changing trends, and adapt to Create Experiences our Customers Love. We've observed that buyers generally search for listings with free shipping and prefer to purchase an item which offers free shipping – making free shipping not an option, but a necessity!" – the announcement says.
It further reiterates that a seller can also earn 5-Star Detailed Seller Ratings (DSR) by default for all transactions on listings which offer free shipping. 
"This is actually good in a way. Quite a few sellers list a Rs.100 product as Rs.20 with a Rs.80 shipping cost to rate higher on the search results for a short period of time, and save on the eBay fees. This will really help to clear out such unhygienic practices. Even with the hike in FVF, eBay still has probably the least fees, so when you think about it, this is not too bad" Says Akshay about this change.
Himanshu Agarwal, who has been selling his clients' products on eBay for many years now disagrees. "This might lead to higher prices for the buyers and essentially higher fees for the sellers" says the category manager at Spurline Naturals "While this might not make a huge difference to sellers of electronics where the FVF is 1%, this might burn a slight hole in the pockets of sellers that are in the perfumes, fashion jewelry and apparel space where the FVF is 7%. If a seller was genuinely spending money on shipping charges, having to pay fees on top of that is going to become fairly expensive too."
But going by eBay's statistics, more than 80% listings on eBay.in already offer Free Shipping, and this change will only affect the minority of the sellers.
A few years back, Usability Sciences conducted a study on Shipping costs. Their study found that 56% of all shoppers browsed for products, but only 19% placed an item in their cart. The most cited reason for this first level of abandonment was, "I can't find what I'm looking for." Of this 19% only 7% of shoppers completed their transaction. The most cited reason for this second level of abandonment was, "the shipping costs and options were unacceptable." – Going by this, free shipping could increase the chances of a sale by almost 12%, which can only result in good for the seller. When you look at the big picture hence, this might also be for the good.
What is your opinion on the recent changes on eBay?